Overview
Shipping a motorcycle from Kathmandu is pretty simple. There are probably over 100 shipping agents which will help you get rid of your money and get your vehicle to where you want to go. This being Kathmandu the general direction is Bangkok. I on the other hand wanted to get my bike shipped overland to India and from there by boat to South America.
The reason for my decision to ship by boat rather than by plane was a financial one. A lot of people argue that the cost of waiting around for the bike to show up offsets this and in the end both are about the same price. I don't agree, and therefore did it this way.
First step, find a reputable agent. Good luck!! I went around and spoke to a number of them in the Thamel area, I also did some research on the net. In the end my impression was that it was just luck of the draw. Some people would give one shipper high remarks, while two months later someone else would write something totally different, and no-one wrote about shipping by sea from Kathmandu. So in the end I went by gut instinct and chose the guy who had the nicest looking secretary. Who also happen to quote me a price which was in line with my expectations.
The agent I chose, Sunrise Cargo in Thamel (sunrisecargo@wlink.com.np) had a nice office just up the road from the KGH (Kathmandu Guest house). Their main business is clothing manufacturing and exporting so they have experience with shipping freight (www.nepcloth.com). Mr. Bishwal Buddhi and his staff were very friendly and professional so in the end it was an easy choice. The name which shows up most often when shipping from Kathmandu is Eagle Eye Exports, I spoke to them but in the end they were both considerably more expensive and I simply didn't get a good impression.
Procedure:
Once everything was agreed on Mr. Buddhi sent his packer to my hotel to measure the bike so that he could purchase the wood. This was when the "problems" started. Measurements were taken, and I explained that the front wheel would be taken off and the whole bike compressed down with straps, and although they seemed to understand I wasn't all that sure. I also went to their place of business and we discussed the required materials. We made a few sketches and made some more measurements, in the end I felt I had made it clear what was required, so I had a pretty good feeling.
The crating of the bike took place 4 days later. When they came to get me, they were carrying the panels pre built for crating the bike. Bad news, as I was sure they were not using my measurements, but rather their own. We drove to the warehouse/factory of Mr. Buddhi and there began to pack the bike (another plus, there was plenty of space to build/assemble the crate, and store the crate until the truck picked it up).
Of course the measurements were incorrect, the result of which was that they had to take apart and rebuild a lot of their work. As they had no power tools they ended up having to do it by hand, and because of this the box ended up being around .5cbm larger than it should have been. In the end a pretty costly issue. I did manage to get it a lot closer that it would have been if they had just assembled what they had brought. But at this stage that was all that I managed. My previous effort to insure they used my measurements and not their own having failed. In addition, the wood they brought and with which they had pre-built the crate was pretty badly curved, and some of the boards were cracked. Nevertheless we proceeded and around 6 hours later it was done.
On the 21 of May, once the bike was crated, I handed the Carnet De Passage (motorcycle bond/customs document) to Mr. Buddhi and this together with copies of my passport and vehicle papers, as well as a short packing list, and a paper giving him permission to export the bike in my name, was all that was required.
The bike was put on a truck the following day and sent to the border. The bike landed in the port of Kolkata without any further delay. There it waited for a full container before the bill of lading could be filled out and returned. I decided to wait in Kathmandu until I had all the required paperwork, and was sure that the bike was on its way. This is of course not necessary as the paperwork could be sent anywhere the receiver is. But I wanted to make sure there weren't any surprises, and I figured it would be cheaper to stay in Nepal as long as possible rather than spend the time waiting elsewhere.
The Carnet de Passage was brought back by the truck and I received it approx. 3 weeks after I gave up the bike (the carnet was stamped out on the 6th of June!). On the 19th of June I received the rest of the documents, the most important being the Bill of Lading without which I could not pick up the bike, and various receipts of payment. The ship, Pacific Envoy, left Kolkata for Singapore on the 17th of June. The shipment would be trans-shipped to the Kota Kaya, which would leave on the 30th of June for Santos, Brazil, where it was scheduled to arrive on the 22nd of July. So, so far so good.
Now I could finally start getting ready to leave.
Receiving: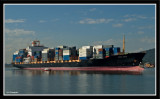 Kota Kaya (the ship bringing my bike..)

Overview:

A number of people had told me that getting the bike into Brazil was going to be complicated. Full of bureaucracy and delays. But I found that the people were all very friendly, and professional. And although they had no previous experience with this process, they did their best to make it as quick and painless as possible. So my impression is extremely positive. Once the receiving agent has cleared the paperwork, the customs can start theirs. Even if the ship is not in port yet, so it helps to get there early. Once the ship docs there is a 2-3 day delay while the partial container is processed. All in all, it will take around 10 days average to get your goods once the ship has unloaded.

Procedure:

First I contacted the receiving agent, and after getting the proper contact, went to Santos to meet him and find out what was required.

Mr. Abrunhosa, was extremely helpful, and took me personally to the customs building and made the required contacts. It took us an hour or so to find the correct official and to get the information on what was required to get the bike through customs.

Basically, the person to see is in the office: Grupo de Saneamento de Despatcho Chefia which can be found on the second floor of the customs building on the right side of the entrance.

The paperwork required is as follows:

- original bill of lading

- 3x certified copies of original bill of lading

- 3x certified copies of passport and visa

-3x certified copies of the vehicle registration document

- Receiving warehouse (the name of..)

Once they have all these papers, they will start the work, at some point you will need to register the information at various departments within Customs, someone from this office should be able to help you with this. (for details on how it went with my, see my blog.) The procedure can take anywhere from 1 to 3 days.

Marinha Mercante:

Before customs will clear the bike for entrance. It will be necessary to pay Marinha Mercante an "import" duty. In my case it amounted to 25% of the shipping cost of the bike. A total of 340.20B$.

The problem with Marinha Mercante, is that in order to pay you will have to go through a Customs Broker, the reason is that payment it only possible through, Banco do Brasil. And it is not possible for a foreigner to open an account in order to pay into the Marinha Mercante account, because proof of residency is required. The customs broker will require the information from the bill of lading and the customs.

Additionally, in order to pay Marinha Mercante you will require a CPF number. Getting this number is trivial and free, but requires an official translated copy of your passport or some other official document. This being South America, the best document would be your birth certificate, as they will require the name of your mother. If you are lucky, they won't insist on it, and will take your word for it when you give them her name. They will try to insist that you go to Banco do Brasil and pay 5.50B$ for the normal number, but this is not necessary. Just insist that you are a foreigner and non-resident, and that you need the number only to release cargo from Marinha Mercante. The number will be issued immediately.

The customs broker will draw up the correct documents and make the payment in your name using their system and your CPF number. They then print out a receipt which is what the customs requires.

Bonded Warehouse:

Also, before customs can finish the paperwork, you have to pay the charges levied by the customs bonded warehouse. This charge is a fixed cost for 15 days of storage and handling. After 15 days you will be charged again... The cost is 687.35B$

Retrieving the Bike:

Once customs clears the bike and finishes the paperwork. The paperwork goes to the warehouse, where you and a customs inspector will open the crate and inspect the bike. Mainly he is looking for the frame number which is on the paperwork, and he may look through some of the luggage. Once he is satisfied, the bike is cleared. Now you have to get it out of the warehouse.

Exiting the warehouse:

This is a pretty strange process. The main issue is that the bike cannot be driven out, as they are not able to process the vehicle data of the bike in their system. This means that you have to either truck the crate out. Or bring someone who has a car and valid drivers license. This along with your CPF number, the vehicle document, and a document authorizing the owner of the vehicle to pick up the freight in question. Once the people at the gate process all this, you are allowed in and can un-crate the bike. You will then be asked to push it to the gate, and from there, you are supposed to exit the way you came in (security check & badge), and walk around the building and then you can push the bike out and ride away. If you are lucky, they will take your badge and just let you ride out, but you never know..

Finally:

If you want to save yourself a lot of trouble, or don't have the time or patience for all this, contact the Customs Broker (see below or the links page) and negotiate with them for a fee, to complete the whole procedure for you. This is possible and the cost depends on your negotiation skills. But keep in mind there is a large amount of effort involved, as you know from reading all this, so the cost may not be small.

Additionaly, keep the crate as small as possible, for my bike the ideal crate size should have been around 2.5cbm

As a comparison, the "raw" shipping price for my bike/luggage by plane to Montevideo or Buenos Aires would have been around $2000.00, and that doesn't include any handling charges. By raw I mean with no crate, although I have heard that a "light" weight one is needed, which would increase the cost. Air shipment is based on weight, and my bike with luggage would weigh around 325kg, add a crate to that and it would be around 350/375kg?

Stolen:

As noted in my blog a few things had been stolen by breaking into the tank box. In the end the following things were misappropriated:

- Electric Air compressor

- Mini socket tool set

- Spare cables set

- Elbow air pressure connector

Also, they had opened the box and taken a bag with charging cables out and thrown it in to the corner of the box!!

The theft most likely occured in India when they removed the engine oil from the bike before putting it into the container. (see my blog for full details..)

Good Luck...
Contacts:
Shipping Agent:
Sunrise Cargo (P). LTD.
Mr. Bishwal Buddhi
P.O. Box 10937
Chaksibarimrg 490 Thamel
Kathmandu, Nepal
Ph. 977 - 470 0790
Fax. 977 - 470 0746
Receiving Agent:
Allink Transportes Internacionais LTDA
Mr. Claudio Abrunhosa
Rua Riachuelo 121-cj11- 1st Floor
Centro, Santos, SP, Brazil
claudio.abrunhosa@allink.com.br
Ph. 55 13 3213 1900
Fax. 55 13 3213 1901
Customs Broker:
Bravo Assesoria E Transportes LTDA.
Mrs. Eliana Rossiter Guizellini
R. Braz Cubas, 03 - 8th Floor - #18
Centro, Santos, SP, Brazil
Ph. 55 13 3224 6989
Fax. 55 13 3224 1858
Costs Overview:
| | | | |
| --- | --- | --- | --- |
| Who | What | Charge (Local) | Converted $ |
| Sunrise Cargo | shipping at 225$/cu meter for 3.11cbm | | 699.75 |
| Sunrise Cargo | Handling charges | 9000.00Nrs | 136.38 |
| Sunrise Cargo | Packing charges | 10,000.00Nrs | 151.53 |
| Alliance Insurance Co. | Insurance (7000$ coverage) | 1,800.00Nrs | 27.27 |
| | Total Shipping Charges | | 1014.93 |
| | | | |
| Allink | Desconsolidaçao | 383.87B$ | 200.00 |
| Allink | Liberaçao | 150.00B$ | 78.15 |
| Allink | Capatazias | 63.13B$ | 32.89 |
| | Sub total Allink | 597.00B$ | 311.05 |
| | | | |
| Bracenter (Warehouse) | Armazenagem | 250.00B$ | 130.25 |
| Bracenter (Warehouse) | Movimentacao/Transporte | 160.00B$ | 83.36 |
| Bracenter (Warehouse) | Posicionamento | 35.00B$ | 18.23 |
| Bracenter (Warehouse) | Carga/Descarga | 136.00B$ | 70.85 |
| Bracenter (Warehouse) | Presenca De Carga | 62.50B$ | 32.56 |
| Bracenter (Warehouse) | ISS 3% | 14.51B$ | 7.56 |
| Bracenter (Warehouse) | Cofins | 29.92B$ | 15.58 |
| | Sub Total Bracenter | 687.93B$ | 358.42 |
| | | | |
| Marinha Mercante | Duties on 676.35 (shipping charges) | 342.76B$ | 177.25 |
| | | | |
| Bravo Customs Brokers | To pay Marinha Mercante | 100.00B$ | 52.10 |
| | | | |
| Notary Public | Notarized copies for customs | 45.00B$ | 23.44 |
| | | | |
| TraduNet | Passport Translation | 43.00B$ | 22.40 |
| | | | |
| | Total Cost of shipping bike | | 1959.59 |
| | | | |
| Brazil Real B$ converted at a rate of 1$ = 1.9193 | | | |
| Nepale Rupee Nrs converted at 1$ = 65.99 | | | |
| | | | |
If anyone has any questions about what happened or need some tips which they can't get from these pages just drop me a line and I will be more than happy to try and help.